2019 Nonprofit of the Year
March 7, 2019
Venice Gondolier: Children First welcomes new board members for 2019
March 25, 2019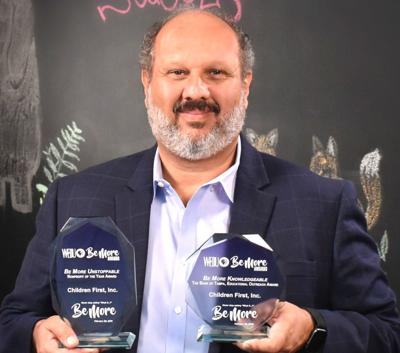 Children First was honored to be recognized as the 2019 Nonprofit of the Year at the 14th annual WEDU Be More Awards.
As recipient of the "Be More Unstoppable" Award, Children First was chosen from a field of the Tampa Bay area's most esteemed organizations. WEDU notes that the award is the most coveted and is determined through extensive research.
The winner was selected by an independent judging committee and given to the organization that, through a superior level of service, helps their constituency Be More. The criteria to receive this award consists of overall organizational excellence and fulfillment of WEDU's Four Commitments to the Community: service to the organization's constituency, level of community impact, financial viability, and embodiment of overall community goodwill.
Children First received a second accolade, the "Be More Knowledgeable" Award, recognizing the longtime Nurturing Dads Program. The award is for the organization that, through a specific project, offers guidance, knowledge, and emotional or physical support aimed at improving specific aspects of community life.
To read the full article on the Venice Gondolier website, please click here.